America's Failure to Address Racism Costs Bowie State Student His Life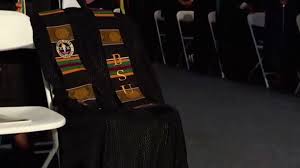 The graduates at Bowie State University remembered one of their own today as they received their college degrees amidst a tragedy triggered by racism. Another student, who attended the University of Maryland and described as a white supremacist, allegedly stabbed Richard Collins III as he waited for a ride while visiting that campus. Collins, a recently commissioned Second Lieutenant, would have graduated today.
"As we struggle to deal with our emotions, let's find appropriate ways to express our sorrow and hope for justice," Bowie State University President Mickey Burnim said in a statement.
Hours before the graduation, students gathered on the campus of Bowie State, one of the nation's Historically Black Colleges and Universities, to console each other and share memories of the 23-year-old who tragically crossed paths with suspect Sean Urbanski. Federal authorities indicate hate crime charges may be filed against Urbanski, a 22-year-old supporter of a white supremacist group called the Alt-Reich.
The murder of Collins is yet another reason for concern about the rise of racism on America's college campuses. Recently, a report by the Anti-Defamation League cited at least 107 incidents of white-supremacist propaganda on college campuses since the start of the school year. Experts are not shying away from the gravity of the white supremacy recruitment effort saying the level of outreach has not been seen before on campuses. They point to posters with specific messages like "Make America white again."
Dr. Ray Winbush, director of the Urban Studies Department at Morgan State University, views the recruitment campaigns as a dangerous byproduct of the nation's political climate.
"There's always been an undercurrent of racism in this country. We've had Presidents say things that were racist while in office. But what's unique about this President [Donald Trump] is that it is sanctioned," Winbush says. "They are taking it out on Black people, Mexicans, Muslims, the LGBT community, and to a lesser degree, women. I believe if the President had been anybody other than "45", Richard Collins would be alive."
After the stunning November election that sent Donald Trump to the White House, there were widespread reports of increased racist incidents around America. Winbush, a psychologist and social scientist, pegs the unrest to a dormant resentment harbored by some white Americans following eight years of leadership by the nation's first Black president, Barack Obama.
According to Winbush, "It's an anger that I don't understand, but it's an anger that I think is pervasive in white America. And, I think Black people understand the potential for violence. Gun sales among African Americans are higher than they've ever been."
At Bowie State's graduation, an empty chair held the cap and gown Collins' would have worn today. Collins' father told local TV stations that a parent's "worst nightmare had come to his door." And Collins' peers battled a range of emotions while the nation the young Second Lieutenant pledged to protect continued its own destructive struggle with racism.