A Family Within the HBCU Family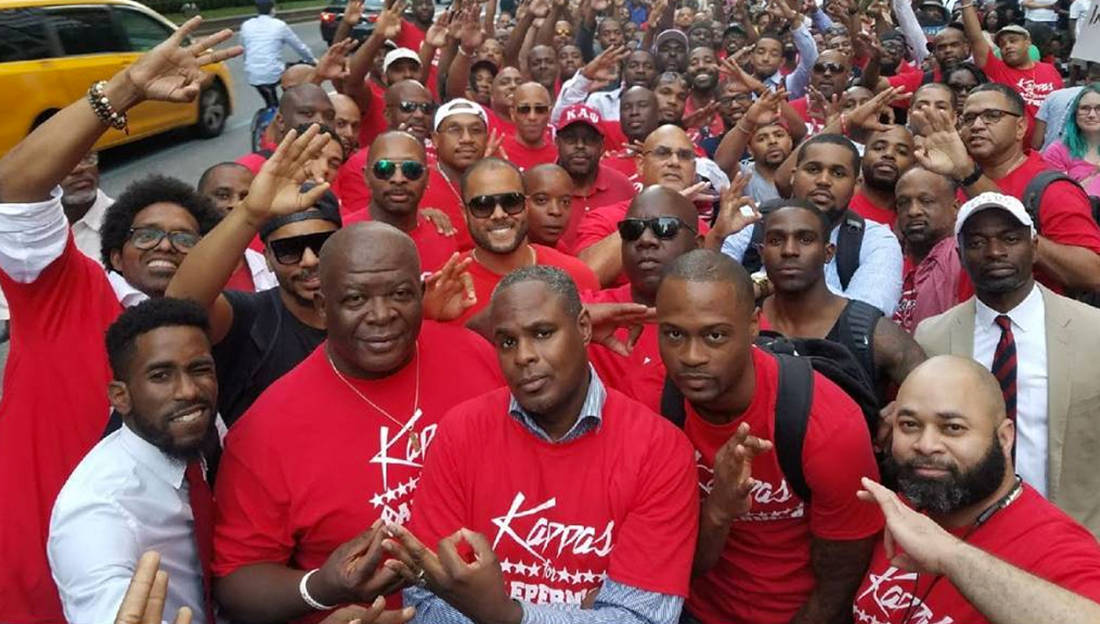 Sixteen-year-old Justin Bryant was scared. His life of staying out late, stealing, getting into fights and hanging with the wrong crowd had landed him in jail.
Behind bars he thought of his two coaches. The ones who always pulled him aside and warned him about the path he was on. They stayed on him about his attitude, his cursing, and his unwillingness to follow the rules.
He hadn't listened, choosing instead to follow the boys who hung out on the street.
One night, Bryant, two of those boys and three girls were arrested for trespassing at an abandoned house. His mother, a single mom with two other children, was furious. But, she never punished him. She didn't need to. After that, he started listening to those two coaches.
It was later when he was in college that he found out exactly who those coaches were. They were Omega men.
"All the influential people in my life were Omegas," Bryant said. "They saw the potential in me that I never saw in myself. They rode me hard. I never knew why."
Bryant was in college when he researched the various fraternities and decided on Omega – the only organization that didn't approach him about joining them. He knew he would be eligible. He had a GPA of 3.6. They required a 2.5. He had volunteered at the Boys and Girls Club, built a home with Habitat for Humanity and volunteered through his church back home in Georgia. He was ready. But they never showed. So, he went to them.
"I was intrigued about being a part of a brotherhood," he said.
Bryant, now 36 and a special education teacher at Cedar Grove Elementary School, said he has convinced others to join.
He said he understands for some it's more of a popularity thing. But not for him. He believes in the heritage and ideals of the fraternity.
The black Greek-letter organizations served as symbols of their assimilation into an elite white academic tradition. They worked to help each other survive on predominantly white campuses. They held fundraisers and provided resources to help students stay in school. They mentored undergraduates.
But, they also instituted rules and regulations that would further distance them from other African Americans.
"Their unrequited quest for status in the white world led them to distance themselves from the masses of their own race," according to Michael H. Washington and Cheryl L. Nunez, authors of The Rise of the Greek-Letter Tradition.
From the beginning, they were limited in scope, Washington and Nunez said.
"Unfortunately, by limiting their vision of racial uplift to the inherently conservative concept of reform, they failed to leverage the revolutionary potential of the black educated elite to pose more radical challenges to the structure of inequality," the authors said.
It's an opinion shared by others including Dr. Walter M. Kimbrough, president of Dillard University and author of Greek 101: The Culture, Customs and Challenges of Black Fraternities and Sororities.
Limiting Their Potential
Kimbrough joined the Alpha Phi Alpha fraternity when he was a student at the University of Georgia because he wanted to be actively involved on campus. Then, African Americans made up five or six percent of the student population.
"We had members who were critical in the development of culture in the country, in the Civil Rights Movement," Kimbrough said. "People wanted to be a part of that legacy."
The fraternity was a place for people to connect and to address meaningful social issues, Kimbrough said. They attacked issues such as civil rights, education, employment and housing issues for blacks.
"Just by coming and going, they made the campus address racism," Kimbrough said. "They forced campuses to address issues they didn't normally address."
But things have changed, he said.
"Recently, we haven't been addressing the pressing needs in the black community," Kimbrough said.  Members are more interested in stepping and social events, he said.
At one point, members of the black organizations used to look down on the white ones because they were more like social groups with no real purpose.
"Now we have become like them," he said. "There is a lot that could be done that's not being done."
One of the issues they could be addressing is the federal funding for HBCUs, which is in danger of being cut, Kimbrough said.
"They plan to cut back on the Pell grant," Kimbrough said. "Two-thirds of the students at HBCUs get Pell grants."
The federal Pell Grant program provides more than $4 billion to African-American college students each year. Without the Pell Grant program, hundreds of thousands of young blacks would not be able to afford college.
The Divine Nine whose members number  over a million nationwide, with thousands more around the world, can have a collective influence.
Kimbrough wants to see the organizations work together to get people in the legislature to address issues in higher education.
As for other issues plaguing the black community such as police brutality, he believes the organizations can work together to help combat the problem.
"That's a huge issue right now," Kimbrough said. But, the ones at the forefront of that issue are the leaders of Black Lives Matter and not the members of the fraternities, he said.
Years ago, the black Greek organizations would have been addressing those issues, Kimbrough said. Many of the civil rights leaders were members of the fraternities, he said.
Today, the most visible example of a fraternity member taking a stand for civil rights is Colin Kaepernick, the NFL star and member of Kappa Alpha Psi fraternity who singlehandedly changed the conversation about the role of professional athletes in politics. Kaepernick's decision to protest police brutality by taking a knee during the national anthem ignited a firestorm of controversy and generated a nationwide response. His fraternity brothers demonstrated their support for his protest with a letter to the NFL and by gathering at the League's headquarters.
The fraternity's Grand Polemarch, Thomas L. Battles, Jr., wrote, "This is a letter of support for our fraternity brother and an appeal to the Office of the Commissioner to right the wrongs, spoken and unspoken, that find Mr. Kaepernick, a recent NFC Champion, blackballed solely for exercising his Constitutional right to free speech."
Kaepernick's example of leadership on issues of social justice is typical of that once associated with black fraternities and sororities.
"They made sure students were engaged in politics, which is big at HBCUs because they are viewed as the leaders," Kimbrough said.
"We are not doing what we should be doing, but the potential is there," Kimbrough said. "A lot of people are joining for the superficial. We are social groups and that's what we do now."
Carl Blunt, who said he's speaking for himself and not Omega Psi Phi Fraternity, Inc., agreed.
"Fraternities became almost irrelevant in the 70s, the 80s and 90s because of elitism," Blunt, 66, said. "The things I see now scares me. Colors became more than colors. Colors became who you are." It became about turf, he said.
And there is the name-calling. Members are calling each other dogs.
"My dad told me a dog always has a master," Blunt said. And the branding. Blunt balked at the idea of burning his flesh.
"My dad told me you're old enough to do what you want, but the only things I see branded are liars, cattle, thieves and runaway slaves," he said.
Blunt said interest in joining the organizations has diminished.
"The world has changed. A lot of kids don't have time. They are not studying at HBCUs," Blunt said. Blunt said students don't seem to need fraternities and sororities anymore.
"They have so many different ways of spending their time," he said. "They don't need that group, that fraternity bond. They have Facebook so it's hard to get them interested.
And there is the problem with hazing. Parents are discouraging their children from pledging, Blunt said.
"They don't want them to get hazed, beat up, so they tell them not to pledge a fraternity," he said.
Greeks Working in the Shadows: Helping and Saving Lives
Sigma Gamma Rho's Deborah Catchings-Smith said there is still a great need for the organizations.
"The drive of Divine Nine is education and we make sure provide education at all levels," Catchings-Smith said.
Without the black fraternities and sororities doing community outreach and providing funds for education, there would be many who wouldn't have received an education, she said. But what makes it to the public's attention are the scandals that many Greek-letter organizations generate.
"There is a tremendous worth of volunteering that is being done by Greek organizations that is not being covered," Catchings-Smith said.
They provide scholarships to high school students, mentor boys and girls.
"Young children really need us," she said. "It's not scandalous. Nobody is going to jail, so it's not being captured. Millions of dollars have been given to fund education. A majority would not have been able to attend college without our help."
They also work to save lives.
"We wanted to address the significant drowning rate in the black community," Catchings-Smith said. "Blacks were drowning at a rate three times higher than other races."
And part of the problem was that many of the community pools that used to be opened to the public were closed, she said.
With 70 percent of African Americans not knowing how to swim, the sorority decided to team with USA Swimming to create programs such as swimming clinics at YMCA and YWCA; schools and community centers, and Boys and Girls clubs across the nation. Five years later, the number of those who don't know how to swim has dropped to 64 percent.
"We are literally saving lives," she said.
In August, Sigma Gamma Rho became the first black organization to be presenting sponsor for the FINA World Junior Championships, she said.
And other than the help they provide to the community, there is the support they give to their members.
"Sisterhood is one of our dynamic components because women need to know other women support them," Catchings-Smith said. "They have to care for themselves, their family. They work, take care of the children and after all that, they face sexism, racism and hitting the glass ceiling. There are multiple challenges every day. They need to know they have a group of women who support them."
And that support comes in different ways whether it's regarding relationships, careers or a helping hand in times of need. A lot of members have been helping others impacted by the recent floods, Catchings-Smith said.
"When you need them, you can call your sisters," she said. For her, they filled a void.
"I'm an only child so it was great to have sisters," she said.
But it's their commitment to the community that makes the difference, according to Lonnie C. Spruill, one of Iota's founders.
Spruill used to council inmates who were drug addicts in a Baltimore prison, and one day he met an unlikely prisoner.
"I used to speak to a group of inmates. In one particular group, one guy started crying."
Spruill was puzzled, until the man took off his shirt. He had an Iota brand.
"'I wanted to meet you, but not like this, in jail for substance abuse,'" the man told him. The man eventually died of drug abuse, Spruill said.
"This lets you know it's real, how important this is," said Spruill, a former Grand Polaris or president of the fraternity. "You can't be a good Iota if you're not a good brother and you can't be a good Iota if you don't reach out and pull someone else with you."
"You can't be a good Iota and not be a good son. You can't be a good Iota and not be a good husband," Spruill said. "You have to be a good community member. That makes a good Iota."
But, they often don't broadcast what they do.
Bryant said whatever he does, whether it's marching or taking part of a protest like the ones for the fatal shooting of an unarmed teen in Ferguson in 2014 or the riot that left one dead in Charlottesville in August, he does it silently. He does it as an individual.
"As an organization, we can't put ourselves in the limelight," Bryant said. "It's almost like a business now."
And Iota's President Andre Manson said that's how most members of the fraternities operate.
"If there is a protest, usually an Iota or another fraternity member is in it," he said.  "You might find there are more Iotas in your day-to-day life than you know. Every now and then you may see a banner or you just may see a lot of brothers out there," Manson said.
The relevance of the Divine Nine may have changed because of the times, but some things he said have not changed. Racism is still there, it's just not as obvious as wearing a white hood, Manson said.
When his father died a few weeks ago, fraternity members called to check on him, Manson said. Some of them he didn't even know. They are there whenever he needs them, Manson said. Some were groomsmen at his wedding. Two of them are his best friends.
"It's more than just a fraternity, it's a family," Manson said.