Ferguson City Councilman Answered the Call to Serve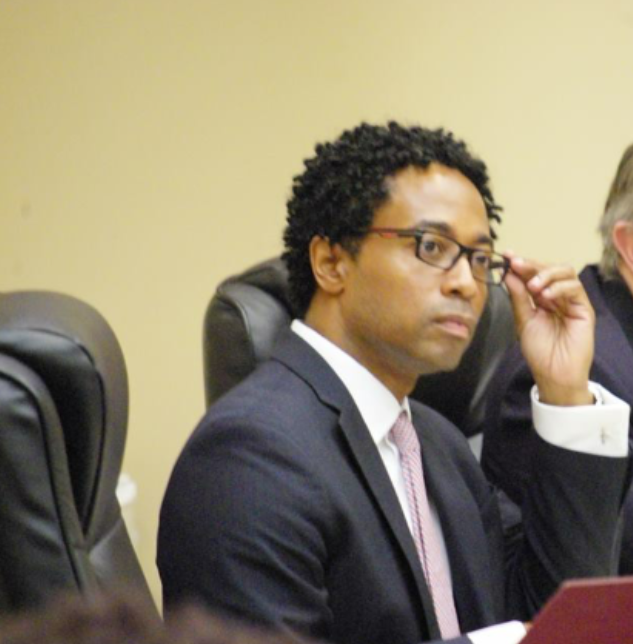 The Starbucks in the suburb where a police officer gunned down Michael Brown during the summer of 2014 is one of the most visible and celebrated signs that Ferguson is making economic headway, attracting new businesses and sustaining others. The indicators of increased trust between community and police are not as easy to identify. But, City Councilman Wesley Bell believes there is progress.
"Starting with City Hall itself and the people who run the day-to-day of the city, we hired our city manager, De'Carlon Seewood, in November 2015. He's the first African American to ever hold that position," Bell says. "We've hired Chief Delrish Moss from Miami. He is very experienced with community policing of which I'm a big proponent, and his commitment to community engagement and facilitating citizen involvement which is my big issue because nothing goes to the heart of community trust and confidence than your police department. If people feel safe, they tend to feel happier with their city."
Diversity, which Bell describes as "America's superpower", figures prominently in the leadership at Ferguson City Hall after the Michael Brown killing. But, Bell is clear he does not support diversity for the sake of diversity. "We've brought in quality people," he states. "Diversity of experience, gender, age, race…all are important in the decision-making process."
In the aftermath of the civil unrest, the attorney and criminal justice professor at one of the area's community colleges felt compelled to participate in the change protestors called for in the streets and from the sidewalks, igniting a national dialogue about police brutality.
"I felt my background in municipal work, my job as a professor and an attorney, and the issues that came out of 2014 circled my areas of expertise," explains Bell. "Prior to Ferguson, I had no plans to get involved on the City Council."
Voters elected Bell and an African American woman, Ella Jones, to the City Council in April 2015. Jones is running for mayor, and if Bell has other plans for political office, the Councilman is saying little. He is focused on helping build a stronger city which includes working to ensure the city complies with the consent decree, its agreement with the Justice Department to overhaul the city's police department and courts to ensure citizens' rights.
The City Council approved the deal in 2016 after the DOJ filed a lawsuit. Since then, there have been reports of missed deadlines.
"I was on the negotiating team so I worked with the DOJ and there were several late nights and long days," recalls Bell. "The idea that you have of people locking themselves in the room until they can come out with an agreement…it was along those lines. I think it's something citizens and the region should rally around. I think there are a lot of good, progressive reforms. And, if we get it right in Ferguson, I think you will see a ripple effect. And, with the world watching us, it's important for us to get it right so we can set the example of what change and progress look like."
Bell calls the consent decree "one of the most important things" he will do in his life. "We still have a ways to go, but I think we're heading in the right direction."
In six months, Ferguson will mark the three-year remembrance of the global firestorm a police-involved shooting of a Black teenager triggered, cementing its place in history for many as the site of a new chapter in social justice. For Wesley Bell, August 9th redirected his personal narrative and galvanized his politics. He's all in now and wants citizens invested as well.
"I want to see our city not just have a good police department but become the gold standard. And, I want our courts to treat everyone fairly," he says. "That requires, and I hope people understand that if you want to see these standards implemented, then you have to root for the success of the city. It's easy to throw potshots at the city, but getting your hands dirty is the hard part. You're either on board, or you're against that progress."