Greatness: Marguerite Ross Barnett Remembered in St. Louis and Beyond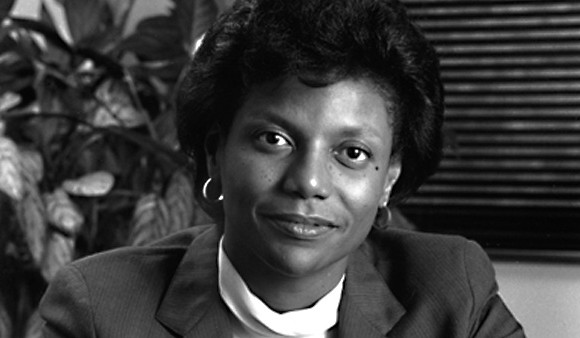 Dr. Marguerite Ross Barnett (1942-1992). She served as UMSL chancellor from 1986 to 1990 before joining the University of Houston as its president. (Courtesy of the University of Missouri)
On February 26, 2012, the editor-in-chief of Ebony magazine made a trip to St. Louis.
Amy DuBois Barnett's visit had nothing to do with her job.  She was making a solemn and special visit to the University of Missouri-St. Louis (UMSL), where  alumni and campus leaders were gathering for a fundraising kickoff.
From Barnett's perspective, this was no ordinary day. She and the others were present to honor her mother, the late Marguerite Ross Barnett, who served as UMSL chancellor from 1986 to 1990.
"That entire day was incredibly emotional," Barnett said. "It was coincidence that the event was held on February 26, the 20th anniversary of her death. I can't think of a more fitting way to remember her than in a setting where people were gathering of to celebrate her life."
Marguerite Ross Barnett was nearing the pinnacle of an outstanding career in academic leadership when, in 1992, she died of cancer. She was 49 years old and at the helm of the University of Houston, as its first African-American and first female president. Houston had hired Barnett from UMSL, where she presided over an unprecedented era of growth and outreach.
"Dr. Barnett was dynamic," said Hubert Hoosman, president and chief executive officer of Vantage Credit Union and the chair of the Marguerite Ross Barnett Memorial Plaza Committee. "She took fundraising to an unprecedented level. She engaged corporate St. Louis. She shook this area up."
Hoosman said the committee is more than halfway to its goal of $250,000 to build the plaza.
"She was a visionary," said Deborah Tansil Graham, director of alumni and community relations at UMSL. "She was talking about community engagement and the role of an urban university before they became buzzwords."
A woman of vision
Designed by Austin Tao of The Lawrence Group in St. Louis, the Marguerite Ross Barnett Memorial Plaza will feature four granite columns representing the years Barnett served as chancellor. Granite walls will radiate from the columns and a circular plaza will feature benches and ledges. A likeness of Barnett designed by St. Louis sculptor Vicki Reid will overlook the scene.
"The plaza is going to represent her vision,"  Graham said. "But it's going to be an educational piece for our students and visitors as well: to learn more and spark conversation about Dr. Barnett."
A rising star
Barnett was the first was the first African-American chancellor at UMSL, one of four campuses in the University of Missouri system. She had been in the position for four years when Houston lured her away in 1990.
A member of the University of Houston law school faculty when Barnett arrived, Dr. Elwyn Lee remembered being excited and impressed when she came to town. At that time, the campus had never had a black department chair or dean.
"Having grown up in Houston, and knowing the culture, for me it was a little like President Obama being elected," he said. "It was such a big deal that the Houston elite embraced her. She electrified the city."
Lee credits Barnett with persuading him to join the University of Houston's administrative ranks as vice president of student affairs. He is now vice president for community relations and institutional access.
"She had a leadership style," Lee said. "She allowed you to lead in your area."
Lee said he soon realized just what having Barnett as a leader would mean.
"She was viewed as a tremendous rising star nationally. I quickly learned how fortunate we were. I will never forget how the affection was so great for her in Missouri. We felt the love from there."
Building bridges
That love is alive and well today. Hoosman was an UMSL student during Barnett's tenure, although he never met her.
"You didn't have to know Dr. Barnett personally to know she was an innovative chancellor who positioned UMSL to be what it is today," he said.
During her tenure as chancellor at UMSL, Barnett broke fundraising records for the campus. Before her arrival, the most UMSL had ever raised at one time was about $30,000. She attracted $1.2 in giving and never looked back.
Today's UMSL students and even many alumni may not be aware of the ways in which Barnett's legacy continues to make a difference in the St. Louis region and beyond.
Barnett conceived and launched the UMSL Bridge Program, which gives St. Louis-area middle and high school students access to pre-collegiate programs and services on the campus. She also spearheaded Partners for Progress, a package of programs covering all levels of education. She expanded UMSL's academic offerings while working to connect the campus with its neighboring communities for the betterment of residents.
"She saw how the community and the university really have to partner to make the region all that it can be," said Graham.
Coming next week, the second part of this article will feature more from daughter Amy DuBois Barnett about her mother's legacy.
To donate to the memorial plaza fund, contact Deborah Tansil Graham at 314-516-4165 or grahamdeb@umsl.edu
To donate to the scholarship fund, contact Hubert Hoosman at 314-264-5102 or hhoosman@vcu.com
Related links: