Lasting Legacy: Marguerite Ross Barnett as Scholar, Leader and Mother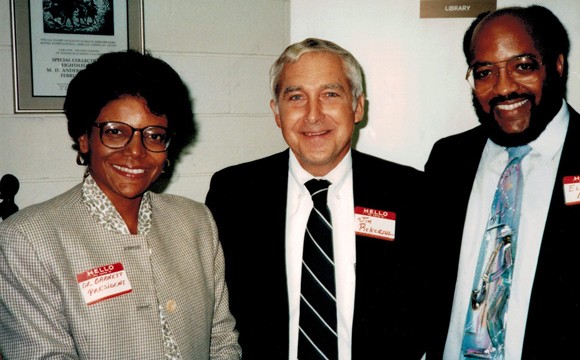 Dr. Marguerite Ross Barnett joined the University of Houston as president in 1990. She is
pictured here in 1991, with her successor Dr. James Pickering (center) and Dr. Elwyn Lee
(right), who today is the university's vice president for community relations and
institutional access. (Courtesy of Dr. Elwyn Lee)

In the second of part of the story, TheVillageCelebration presents more about this woman of firsts. Barnett blazed a trail in academics that students are following today. A scholarship fund and a new memorial now allow her legacy to reach even further.
A woman of achievement
A political scientist, Marguerite Ross Barnett came to the post of University of Missouri-St. Louis (UMSL) chancellor in 1986 with an impressive track record. She earned her master's and doctoral degrees at the University of Chicago. She taught at a number of prestigious universities including Princeton, Howard and Columbia, before her first administrative post as vice chancellor for academic affairs at City University of New York.
Barnett edited or wrote five books and won an award from the American Political Science Association for The Politics of Cultural Nationalism in South India (Princeton University Press, 1976). Her friend and colleague at the University of Houston, Dr. Elwyn C. Lee, described it as "one of the best." He said her national profile as a scholar brought positive attention to the University of Houston's academic offerings, which had not always been in the spotlight.
Lee recalled how Barnett brought her fundraising prowess to the University of Houston in the early 1990s, convincing donor John J. Moores to divide a $51.4 million gift between academics and sports. It was the largest donation ever made to a public university in the United States.
"Moores wanted to give all the money to the athletic department, but she sat down and reminded him that this was an academic institution," Lee said.
But Barnett's first order of business in Houston had little to do with money.
"She was president of all the people," he said. "On her first day she said, 'I want to go see the students.'"
Hubert Hoosman, who raises money for the Marguerite Ross Barnett Memorial Scholarship, said he and other UMSL alumni want students to know just what Barnett meant to the institution.
"Other than a portrait of her on campus, people don't know," he said. "We cannot let this history die."
The scholarship already contributes to keeping Barnett's legacy alive. Launched six years ago, the fund holds about $124,000. Hoosman said alumni plan to up the ante with an annual fundraising gala that could have its debut in late 2012 or early 2013.
A mother's legacy
If asked today, among Barnett's greatest points of pride would perhaps be the life and times of her only child, Amy DuBois Barnett.
Meeting her at the Marguerite Ross Barnett Memorial Plaza fundraising kickoff in February, Hoosman was impressed.
"The apple doesn't fall from the tree," he said.  "I thought she was so dynamic and poised. She was very happy to see that the contributions of her mom were acknowledged."
The younger Barnett, 42, took the helm at Ebony in July 2010 She's also a published  author, a wife, and mother to a six-year-old son.  Just 22 years old when her mother died, Barnett shares her drive and ambition.
"My mother always thought big," said Barnett. "She also recognized the responsibility of being in a position where you have the resources and intellectual gifts and a perspective to accomplish a very high set of goals. I feel the same way. If you're in a position where you can accomplish something, you have a responsibility to break down a door."
Growing up, Barnett came to appreciate her mother's place in the world.
"I've always been proud of my mom always was aware that she was a pioneer," she said. "You see how people treat your parents. People always treated her with great respect. I absorbed that as an adolescent and in my early twenties."
That respect lingers among those who knew of Marguerite Ross Barnett and her work, Lee among them.
"She was would have done marvelous things for us. I truly adored her," he said.
Amy Dubois Barnett believes her mother was poised to reach greater heights. In fact, as her mother grew sicker she expressed regrets about not being able to achieve even more at the University of Houston and beyond.
"I know she was being talked about for larger roles, for example in government and at other universities," she said. "There was a sense that she had a mission to fulfill in Houston and then a greater mission to fulfill for the country. She never got to see that to fruition and that was painful for her."
[slider_pro id="4″]
Looking ahead
Hoosman and Graham said plans are underway for the Marguerite Ross Barnett Memorial Plaza groundbreaking in June and completion by the end of August, when UMSL classes begin.
"This is untold history," said Hoosman. "The time is right to do what's right. To properly acknowledge her contributions."
Related links: