Michael Brown's Mother Graduates and Achieves Longtime Goal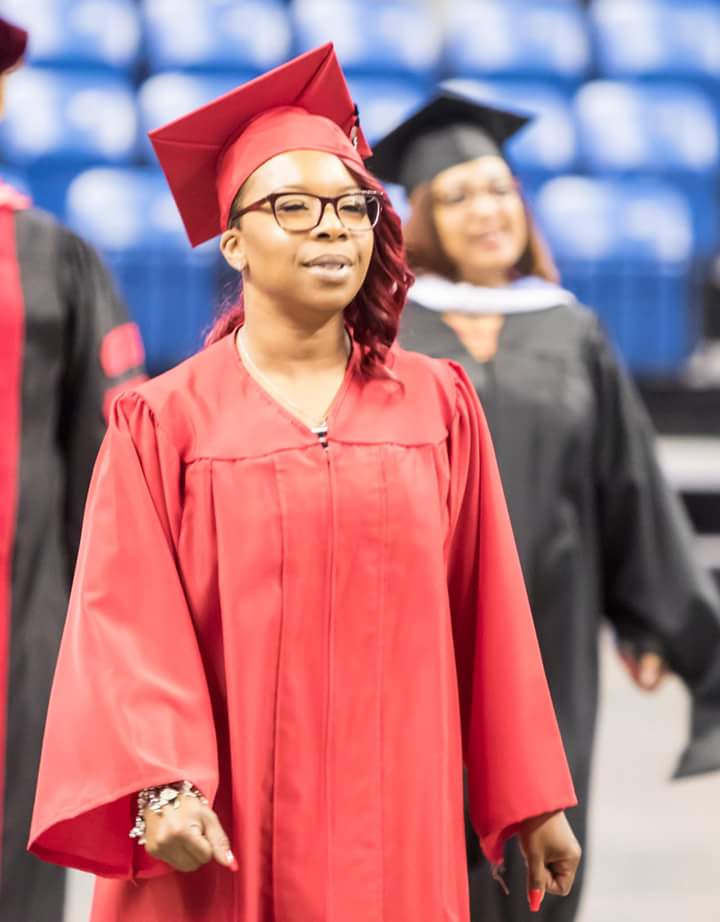 The most famous graduate at the commencement celebration for Jennings High School in the St. Louis area touched hearts around the world three years ago when she uttered these pain-soaked words, "You took my son away from me."
When Lezley McSpadden made that statement, she had just learned that a Ferguson police officer had shot and killed her unarmed teenage son, Michael Brown. The death of her son and the civil unrest in Ferguson and around the nation that followed ignited a new dialogue about police brutality in America. It also left her and her family devastated.
"I had been beating up on myself," McSpadden explains.
In her book Tell the Truth & Shame the Devil, McSpadden wrote about the day she brought her son home from the hospital after his birth:
"I thought my family was going to be really disappointed in me, but when my Auntie Bobbie, picked up Mike Mike, and held him gently in her arms she looked in his eyes and said, "You better not keep my niece up all night 'cause she gotta go to school," I was nearly brought to tears by her powerful words."
But even with her fierce commitment to school, the responsibilities and challenges of being a teenage parent overshadowed McSpadden's resolve. She quit school but vowed to return someday. And, she did.
"I think a cap and gown is one of my favorite outfits," McSpadden said laughingly. "And to have my kids see me in my strong moments because they've seen me broken down in my weak moments means so much."
For a woman who needed to call upon her inner fortitude to survive the past few years, McSpadden returned to that place again to fuel her desire to graduate. But, she also tapped into some new resources.
Her instructor at the adult education program became a friend. According to McSpadden, "I had my days where I would shut down, but I still showed up. My instructor could relate because she too had lost a child. She related to being there physically but not mentally."
There were also days the math lessons were difficult and her 12-year-old son served as a tutor. "I laughed about it," the proud mother said. Her son and other children along with "those who wanted me to rise from the ashes" motivated her to stay focused.
Her determination stirred up memories connected to the pep talks she had given Michael during his senior year of high school. McSpadden said, "Instead of having to take up a trade, I explained to him, 'You can take this diploma anywhere. This piece of paper is just that powerful.'"
Her voice is tinged with sadness, but McSpadden didn't allow it to overpower her. She turned to her daughter, Deja, who also graduated this year. "She lost her best friend and to see her do so brilliantly…just to see her focus and not let everything going on around her be a distraction, I commend her more than anything," McSpadden pointed out softly.
While Deja plans to attend Tennessee State University this fall, McSpadden looks forward to motivating others and speaking out against injustice. But, for now, she wants to savor the satisfaction of achieving a goal she set years ago. "It's such a feel-good moment. I felt myself beginning to heal," she admitted. "I think I deserve that, and I want other people who have been hurt…if it's something you didn't conquer in life, go back and conquer it."