How Rituals Reminiscent of Slavery Challenge Greek Greatness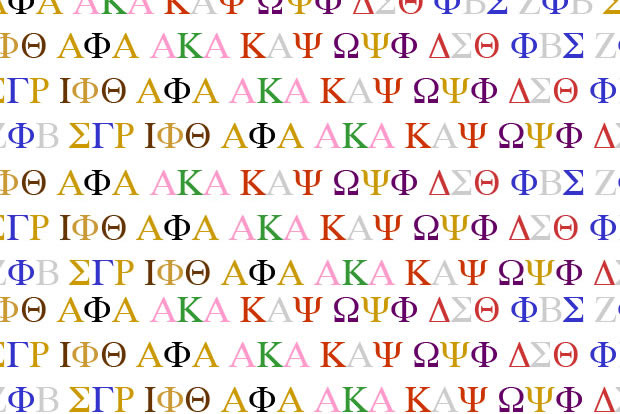 For R. it was simply a matter of curiosity. He knew little about the Greek-letter organizations, but when different fraternities approached him and his friends about joining, he decided to give it a try.
It was at Howard University, the first historically black university to form a black Greek-letter organization.
"Each one had different hazing regulation. Each one put you through different events," said R., who did not want his name used because he has clients who are members of fraternities. "If you don't do what you're supposed to do, you are paddled. It was a part of the process to beat you."
Soon he would come to understand, "You can never do right by the fraternity," R. said. "That's a part of the fraternity."
One day he was given a task.
"I was supposed to deliver pizza, but I didn't get there on time and they were going to discipline me and I didn't want to be disciplined."
All the pledges had covers over their heads when someone struck him. For R. that was enough. He left. His friends stayed.
"People join fraternities for companionship, for friendship, a sense of loyalty and dedication to a group. It's similar to why people join gangs and other organizations. They want to belong. I decided I didn't need to belong to anything," R. said. "I never wanted to be a follower."
His friends never talked to him about what they had to do. They weren't allowed to, he said.
Black fraternities and sororities were formed in the 1900s through a struggle for recognition and respect. The five fraternities and four sororities known as the Divine Nine were a system of support and a source of strength in the fight against racial aggression. But, some would adopt a practice of physical and psychological abuse that brought into question their purpose.
It became common for black fraternity pledges to be psychologically and physically torn down. As part of the initiation process, pledges were "beat-in" by active fraternity members.
Psychological abuse occurs in the "nickname" process in black fraternities. The names were typically degrading and vary by chapter and organization. But not all the names are derogatory. Some use Afrocentric nicknames to empower. Still, initial rites such as branding, beat-ins and name-calling appear to pattern the experience of blacks during slavery.
On the one hand, black fraternities serve as a haven of safety and respect that African Americans rarely experience on largely white campuses; on the other hand, many activities in the black fraternities directed toward their own members smack of internalized racism and even subjugation, according to the authors of Racism, Sexism and Aggression, a chapter in the book, "African American Fraternities and Sororities: The Legacy and the Vision."
During the pledging process that can last for weeks or months, some pledges are required to withstand severe beatings and act as a slave to fraternity brothers and sorority sisters to prove their loyalty so they could be initiated into their organizations.
Hazing: A Chronology of Injuries and Deaths
Between 1989 and 2007, there were 65 issues of hazing reported at colleges and universities across the country, according to a website that keeps track of the incidents. The incidents ranged from broken ribs and internal bleeding to severe organ damage and death.
Seven of the Divine Nine were linked to those incidents: Alpha Phi Alpha; Phi Beta Sigma; Omega Psi Phi; Zeta Phi Beta; Kappa Alpha Psi; Alpha Kappa Alpha and Delta Sigma Theta.
Two women drowned while allegedly pledging Alpha Kappa Alpha in 2002. In the deaths of Joel Harris in 1989 at Morehouse College and Michael Davis in 1994 at Southeast Missouri State University, millions were paid in lawsuits and in the case of Davis several people were arrested and students expelled from school.
Felicia Taylor, Davis' former girlfriend, shared a conversation she had with him the day before he collapsed. Davis had been beaten to death while pledging Kappa Alpha Psi fraternity at Southeast Missouri State University.
"They took him into a room and five members of the fraternity attacked him," she said, according to Black Issues in Higher Education. "They punched and kicked him. I asked if he ever got the urge to swing back and he said, `We can't.' He said he had been kicked in the head."
The day after this conversation, Davis collapsed after submitting to another beating at the hands of his fraternity brothers, according to the publication's article, Frat-ricide: Are African American Fraternities Beating Themselves to Death? Instead of taking him to the hospital, they drove the unconscious student home and put him to bed.
At 1:30 p.m. his roommate, another pledge, saw green foam coming from Davis' mouth. Finally, they called 911. But it was too late. Davis had "broken ribs, a lacerated kidney, a lacerated liver, and bruises all over his chest, neck, back and arms. He died from internal bleeding in his brain," the coroner reported.
Four other pledges were badly bruised and sore from the continual beatings they had received, according to the article.
In the 65 cases, there were reports of severe kidney damage, a ruptured ear drum and torn blood vessels; One student was burned with cigarettes, another student pushed through a wall and another hospitalized after being beaten by line sisters.
One student was hospitalized after the skin was torn from her lower back and buttocks. Another placed in intensive care. Both were pledges of Delta Sigma Theta.
In one incident that allegedly involved Kappa Alpha Psi at the University of Pittsburgh, a student had to be placed on a kidney dialysis machine after being beaten with a paddle and cane. Another had to have a colostomy and one student had to have two surgeries, including a skin graft, after being paddled so severely he reportedly had wounds that were 7 inches round and ½-inch deep.
In many of the cases students and, in some cases faculty members, were arrested. And the organizations were suspended for years from the institutions.
"White fraternities had hazing problems with alcohol and sexual abuse," said Carl Blunt, chairman of Omega Psi Phi's International History and Archive Committee. "Most of our hazing was with physical brutality and I don't know why. After World War I there was this pervasive attitude of how much you can take, how strong can you be. Men were supposed to be able to take a beating," Blunt said. But he believed differently. "You can take a beating, but it don't make you a man."
Prohibition on Hazing
The incidents of brutality led to a moratorium in the 1980s. There had to be a change.
"There was a financial crunch facing HBCUs," Blunt said. "They were wary of anything that can be deemed as criminal. They were trying to attract students and they didn't want to have any type of criminal element."
The fraternities had to amend their rituals. For two years, they stopped pledging. "We had to become vanilla in order to survive," Blunt said. "They couldn't march in line because that was considered hazing. They couldn't dress alike because that was considered hazing."
After the moratorium, pledging became a watered-down process, almost like an interview, Blunt said.
Still, of the 65 alleged hazing incidents, Omega Psi Phi members were reportedly responsible for 12 of them. The two sororities, Alpha Kappa Alpha and Delta Sigma Theta, were reportedly responsible for 13 of the incidents.
Young Jouanna Crossland was already familiar with Greek life when she decided to join the Delta Sigma Theta Sorority in the Spring of 1997 at the University of Akron in Ohio. Some of her family were already members.
But she said she chose Delta because they were active in doing projects on campus such as collecting items for the homeless living in shelters. And they cared for the small demographics of African American students on the predominantly white campus. They would get together and talk about issues facing the black students.
There were many, she said, who dropped out of college. Jouanna, who is now Crossland-Wells, said she heard the stereotype that the Deltas were bougie and she believed it until she did her research and saw them on campus. She saw something different.
"This comraderie, this group of people coming together to address what black people on campus wanted," Crossland-Wells said.
"Yes, you can join United Way, the Urban League, but this organization is for the African American community and a collective effort for African American women in particular. Also, we have to have a big political focus because we know politics shape and run this world. We have to learn and help make decisions that save lives.
"It just has to be what you decide," Crossland-Wells said. "You can join the United Way, but you won't get the same feeling as you get for Delta."
For her, it was the instant bond, she said.
Still, she said she is aware of the reports of injuries and deaths related to hazing.
"For us and everyone in the national organization, there is an anti-hazing policy," Crossland-Wells said. "But some go rogue and deviate from the prescribed method and that's unfortunate."
Iota Phi Theta's Grand Polaris Elect or President, Andre Manson, said hazing has made the fraternity more cautious about their membership. He said so far, their fraternity has not been sued for causing the harm or death of a pledge.
But he said it's foolish to think hazing doesn't happened.
Lonnie C. Spruill, Jr., said when he was Grand Polaris of Iota decades earlier there was an incident in which two members mistreated a pledge. Those members were barred from participating in any of the fraternity's activity for two years, he said.
"I thought we were a little tough, but that's what we have to do because Iota was founded on the principle of brotherhood. How can you rough up your brothers?"
But Sigma Gamma Rho's Deborah Catchings-Smith said they take it a step further and kick out a member for hazing, which they consider any action that cause mental or physical harm to a member.
"We have an anti-hazing policy," Catchings-Smith said. "We are always mindful of any incident of hazing.  All our members are trained, new and perspective members are trained."
Still, she said, "Unfortunately, there are incidents that happened and when that arise we discipline the member. We sanction the member." And that includes expulsion, she said.
They also contact law enforcement, Catchings-Smith said. They comply with the law, which differs from state to state.haz