Legacy of Annie Malone and Madam C.J. Walker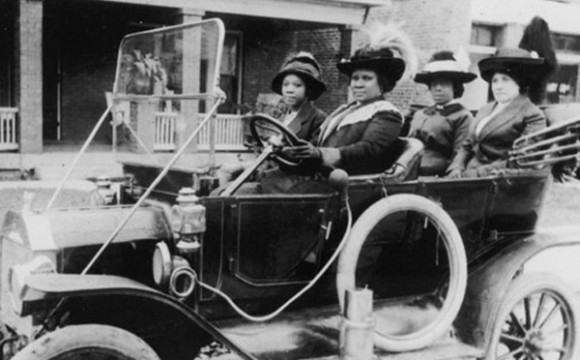 Survivors and Innovators: The Shared Legacy of Annie Malone and Madam C.J. Walker
St. Louis, MO – Holly Edgell
Black hair care has deep roots in St. Louis. It was here that Annie Pope-Turnbo Malone developed and began to sell her products in the early 1900s, eventually launching her own company, a hair care college, a secretarial school, and a hotel.
These enterprises formed the heart of The Ville neighborhood in north St. Louis, beginning in the 1900s. Among the early sales agents for her Poro hair care line was a former washerwoman named Sarah Breedlove, later known as Madam C.J. Walker.
Although she eventually moved her businesses to Chicago today the Annie Malone legacy lives in the walls of a St. Louis community center.
Its offices reside in The Ville, in a building that once housed The St. Louis Colored Orphan's Home (it began in 1888 at another location). A $10,000 donation from Malone herself breathed life into the facility on Goode Avenue (now Annie Malone Drive).
Today the former orphanage for African-American children is the Annie Malone Children and Family Service Center. Its mission appears on the center website:
"… to improve the quality of life for children, families, elderly and the community by providing social services, educational programs, advocacy and entrepreneurship."
Center CEO Angela Starks said Annie Malone brought both a touch of class and a common touch to her community.
"She was a pillar of The Ville," Starks said.
A St. Louis Tradition
Beyond the center's daily activities, the name Annie Malone is synonymous with an annual St. Louis tradition: the May Day Parade downtown. (The parade does not actually take place on May 1, a date known as May Day around the world. This year the date is May 20).
Starks said the parade has its roots in a very significant event for Annie Malone:
"It started with a mortgage burning-party," Starks said. Malone and her staff had reason to celebrate, when more than 90 years ago, they paid off a loan on their building.
After that, Stark said, the parade took on a new purpose: as a way for business in The Ville to show case their products and services.
Stark said the event is the longest running African-American parade and the second largest in the country (after the Bud Billikin parade in Chicago).
A Shared Legacy
Madam C.J. Walker got her start in the hair care industry selling Annie Malone's Poro products in St. Louis around 1903. Walker's great-great-granddaughter A'Lelia Bundles said no one really knows how the two first met, but as ambitious women in the tight-knit African-American community, they were bound to make each other's acquaintance.
"Sarah Breedlove was was losing her hair," Bundles said. "I believe Annie Malone helped Sarah with some of her hair issues. Then, when Sarah wanted to leave St. Louis she moved to Denver to get a fresh start, selling Malone's products."
In her book On Her Own Ground: The Life and Times of Madam C.J. Walker (2001) Bundles provides details of the early days of the shared hair care philosophy of Annie Pope-Turbo Malone and Sarah Breedlove. Although Malone later developed hair-straightening products, in the early days the pair focused on healthy hair.
"They absolutely have a shared legacy," Bundles said.
Shared Starts, Diverging Destinies
While both Malone and Walker shared humble beginnings and high hopes for their futures, they eventually made decisions that took their lives in different directions.
Bundles's book describes Malone's arrival in St. Louis from small-town Illinois in 1902. Walker had come to the city from Louisiana in 1889, seeking support and shelter from her brothers who were established as barbers.
While Malone's enterprises found success in The Ville, it would take Walker stops in a few other cities to build her own fortune. As Bundles explained, Walker died at the height of her fame, a millionaire with an international reputation as a businesswoman and philanthropist. Bundles attributed her ability to write about Walker to a rich archive of business records, personal letters, and other documents.
Malone's legacy, at least outside St. Louis, has not fared as well. There is no definitive biography about her; business, personal and legal troubles complicated her life as she aged.
Starks said that Malone was Missouri's first black millionaire, at one time paying the highest tax rate in the state. The woman who invented the hot comb and founded the nation's school dedicated to the study and teaching of black cosmetology, lived to see the government and other creditors seize Poro.
The Walker Story
Bundles is continuing to tell the story of her family, now working on a book about her great-grandmother and namesake A'Lelia Walker, Madam's daughter. The inspiration for the new project was correspondence between the two women and their acquaintances that reveals the origins of their love and support for music, particularly opera.
Bundles said mother and daughter were immersed in a variety of musical forms in St. Louis. For a time they lived across the alley from Tom Turpin's Rosebud Café, where ragtime ruled. Membership in the St. Paul AME Church meant exposure to classic hymns and other musical forms.
"How did they start liking opera," Bundles recalled wondering. "Now I know they were exposed to it in St. Louis."
Hair Today
Bundles said many people mistakenly associate Walker with hair straightening products.
"Madam was a pioneer of modern cosmetics and hair care industry," Bundles said. "At a time when most Americans didn't have indoor plumbing, hygiene was very different. A lot of women had really horrible scalp disease. Her primary goal was to grow healthy hair and her line of products reflected that."

Although Malone did market hair-straightening products, Starks believe she would have embraced today's healthy options for black hair. "She was a smart woman," Starks said. "I think she would have been bright enough to understand the care of the hair and she would have moved with times." Bundles said Walker and Malone became rivals rather than friends or collaborators. "Still, they have a shared legacy," she reflected. "In my view both of them were really amazing women, they were innovators. They were equal to the task, which is why they were such fierce competitors."
Learn More:
Read More