The Power Of Greatness Is In You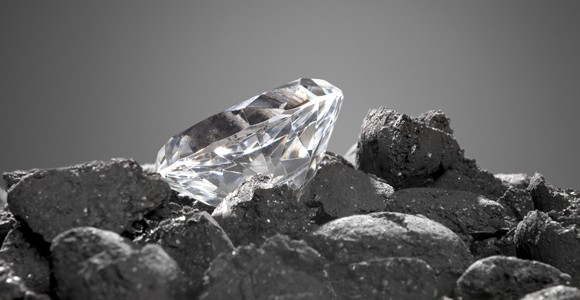 Memphis, TN – Dr. Brenda Caldwell
Everyone knows about the bling, the brilliance of a diamond. But, have you ever seen a diamond in its natural state…before it is mounted in platinum, gold, or a grill? It's dull and rough around the edges. Only a highly skilled diamond cutter would recognize it. In fact, the phrase, "a diamond in the rough" stems from a metaphor for the original unpolished state of diamond gems, especially those with the potential to become high quality jewels.
The process
It is remarkable how a piece of coal becomes a beautiful and treasured diamond. First, the coal undergoes great pressure and heat.  The intensity of the process causes the carbon bonds inside the coal to eventually press into the structure that forms a diamond.
Rough Times
Now, let's suppose this lump of coal could talk.  I imagine it would scream for help, calling its family and friends to rescue it from the relentless heat and pressure. Its voice would be coated with pain as it cried,  "Help! This is a nightmare! It's too much."
As a tenderhearted Christian psychologist and ordained minister, if you were coal and I were your friend, I would not rescue you. Why not you ask? You are on your way to greatness. Remember, a diamond is just a rock until it is subjected to continuous heating, cutting, and polishing.  In fact, a "diamond in the rough" can be mistaken for a pebble. But even a pebble has potential.
"Do You"
You have the potential to do more, be more and achieve more than you ever thought possible. No  one can beat you being you! You are one-of-a-kind, a miracle created by God to make your mark of greatness on the world. Don't compare yourself to anyone else. You have everything in you to become who you were born to be.
The power of greatness doesn't mean you have to find a cure for cancer or even become wealthy. It simply means you live a purpose-filled life maximizing your God-given gifts, time, and talents by doing what you were created to do to make the world better. Ephesians 2:10 reads, "We are God's workmanship created in Christ Jesus unto good works which God predestinated us to do."
A Masterpiece in the Making
It might be difficult to see yourself as a masterpiece if you've been treated more like coal than a diamond. Years ago, my fiancé walked out of my life without an explanation. I was devastated, confused, and ashamed. After going through the healing process, I realized it was his loss to walk away while I was still a "diamond in the rough." He didn't see my potential, but the blessing is that his rejection was actually God's protection. You may have experienced abandonment, neglect, rejection or other traumas. Perhaps, you have not had the familial or financial resources to help develop your potential. You may have even made some messy mistakes. Whatever the case, you still have the power of greatness in you.
It is my absolute passion and purpose to speak life, hope, and healing into the hearts of all who need it. I am joining TheVillage to answer your questions about life situations and fulfilling your purpose. I say to my clients, "You cannot heal until you're willing to be real." I don't know everything, but I do know the One who does. And His specialty is diamonds.
You can write Dr. B. at drb@thevillagecelebration.com. Dr. Brenda Caldwell is a native of Memphis, Tennessee with more than 18 years experience as an empowerment expert and Christian psychologist.  She is the author of  From Charcoal To Diamond: Discover The Greatness In You!